Dive Center Has New Digs
---
By Rich Schwartzman
Chadds Ford Live
---
Blue Horizons Dive Center has officially moved from its old location in Springwater Plaza to its new home farther south on Route 202, at 16 Wilmington Pike where Hadfield's Seafood used to be.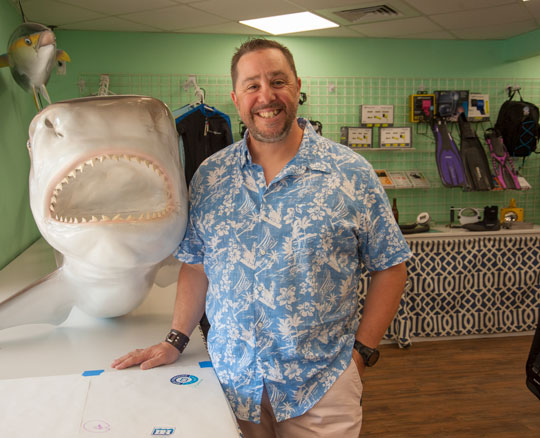 Blue Horizons Dive Center is now in its new home. Owner Chris Donnelly says the shop can offer basic and advanced dive training for certification.
Shop owner Chris Donnelly said he likes the new space and is looking forward to continuing to serve the dive community in the greater Chadds Ford area. Blue Horizons is affiliated with PADI, the Professional Association of Diving Instructors and offers sales, service, equipment rental as well as instruction.
"We dive worldwide, as well as in Pennsylvania and New Jersey," Donnelly said.
The Pennsylvania dives are freshwater at Dutch Springs near Bethlehem. In July, there's a trip to Cozumel and in September, a trip to Belize.
For those who are curious about diving but not ready to commit, Blue Horizons offers a $50 experience where a person can get some pool time and learn what it feels like to breathe from an air tank while underwater.
There's no certification offered for that level, but Donnelly does offer an entry-level PADI certification for $750-$1,100 that takes place over two weekends. Advanced training is also available.
Shop hours are 11 a.m. to 7 p.m. Monday through Friday and 10 a.m. to 5 p.m. on Saturday. Sunday hours are by appointment.
For questions, Donnelly can be reached at 610-558-1101 or at Chris@bluehorizons.net. The web address is www.bluehorizons.net.
---
This story was reposted from June 21, 2019 as first seen on Chadds Ford Live.